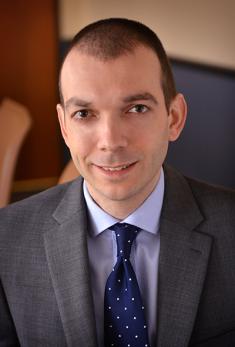 Practice Area:
Business Organization, Healthcare Law, Commercial Transaction and Finance
Practicing State:
West Virginia, Ohio
Attorney Phone Number
(304) 345-2000 ext. 1039
Assistant:
Karen Evans
Assistant Email:
kevans@lewisgianola.com
Assistant Phone:
(304) 345-2000 ext. 1030
Matthew R. Bowles is a Member at Lewis Gianola whose practice focuses primarily on commercial law and assisting West Virginia businesses, in a wide range of industries (including health care, energy, technology, and non-profit or tax exempt entities). Matthew works with clients to tackle a variety of different matters including corporate organization and governance, asset acquisitions and divestitures, customer transactions and joint ventures, human resource matters, financing, and real property development, leasing, and management.

Mr. Bowles earned a Bachelor of Arts degree in Political Science, magna cum laude, from Bowling Green State University, where he minored in English and History, in 2004. He earned his Doctorate of Jurisprudence with High Honors from The University of Tennessee, College of Law in 2007. Mr. Bowles was admitted to practice law in West Virginia and the United States District Court for the Southern District of West Virginia that same year and was admitted to practice in Ohio in 2017.

Mr. Bowles is active in service outside of the office all around West Virginia. Among other commitments, he was a long time member of the Board of Directors and a past President of the Board of Directors of Catholic Charities West Virginia, a Statewide charitable organization serving more than 70,000 individuals in need each year through a variety of outreach programs and services throughout the State; a past President and current member of the Board of Directors of The Counseling Connection, a regional non-profit organization providing mental health services in throughout West Virginia regardless of ability to pay; and the current Treasurer and member of the Board of Directors of the Sisters of St. Joseph Health and Wellness Foundation which is working to address the health and wellness needs of West Virginia's children through a variety of grants and projects. In 2018 Matthew received the Benemerenti Medal, awarded by the Pope, for his service to Catholic Charities West Virginia.
Matthew was recognized by The State Journal in 2017 as part of its 'Generation Next, 40 Under 40.' In 2018 he was recognized in the 25th Edition of The Best Lawyers in America© for his work in Health Care Law.
Co-Author: "Appealing Changes: A Case for Expanding Appellate Review in West Virginia's Judiciary" in The Rule of Law: Perspectives on Legal and Judicial Reform in West Virginia (The Public Policy Foundation of West Virginia, Russell D. Sobel, ed.) 2009. 
Mr. Bowles is also a registered lobbyist and works to represent the interests of clients before the West Virginia Legislature and other governmental agencies.

Mr. Bowles lives in Charleston with his wife Jenna and their two daughters.