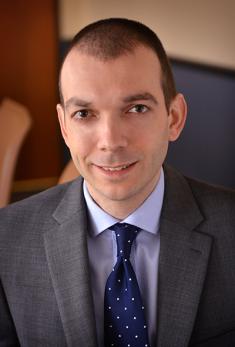 Practice Area:
Business and Corporate Law, Financing, Government & Admin Law, Healthcare Law, Lobbying, Non-profit and Charitable Organizations Law, Real Estate and Property Law
Practicing State:
West Virginia, Ohio
Attorney Phone Number
(304) 345-2000 ext. 1039
Assistant:
Karen Evans
Assistant Email:
kevans@lewisgianola.com
Assistant Phone:
(304) 345-2000 ext. 1030
About Attorney Matthew R. Bowles
Matthew R. Bowles is a member at Lewis Gianola PLLC in Charleston, West Virginia (WV). Focusing primarily on commercial law, he provides legal counsel to businesses in a wide range of industries including health care, energy, technology, and non-profit or tax-exempt entities.
Practice Areas
Mr. Bowles works with clients to handle a variety of legal matters including financing; corporate organization and governance; asset acquisitions and divestitures; customer transactions and joint ventures; human resources matters; and real estate development, leasing, and management.
Helping clients manage and finalize business transactions is rewarding to Mr. Bowles. He enjoys working with closely held companies as they grow and advising business owners in matters related to contracts, mergers and acquisitions, key customer relationships, and LLC and partnership development. In his work as a financing attorney and business counselor, Mr. Bowles strives to identify key issues and craft solutions to meet his clients' objectives.
Mr. Bowles also serves clients in government relations matters. He is a registered lobbyist and represents the interests of clients before the West Virginia Legislature and other governmental agencies.
Education and Admissions
Mr. Bowles earned a Bachelor of Arts degree in Political Science, magna cum laude, from Bowling Green State University, where he minored in English and history, in 2004. He earned his Juris Doctor with high honors from The University of Tennessee College of Law in 2007.
Mr. Bowles was admitted to practice law by the Supreme Court of Appeals of West Virginia and the United States District Court for the Southern District of West Virginia in 2007 and by the Supreme Court of Ohio in 2017.
Community Involvement
Mr. Bowles lives in Charleston with his wife, Jenna, and their two daughters. He is actively involved in community initiatives and organizations throughout the state.
Among other commitments, Mr. Bowles serves on the board of directors of Catholic Charities West Virginia (CCWVa), a statewide charitable organization serving more than 70,000 individuals in need each year through a variety of outreach programs and services. He previously served as president of the organization.
In 2018, Mr. Bowles received the Charity in Action Award from CCWVa as well as the Benemerenti Medal, awarded by the Pope, for his service to Catholic Charities West Virginia. In further recognition of his service to the church, Mr. Bowles was selected as a member of the Equestrian Order of the Holy Sepulcher of Jerusalem in 2022.
Mr. Bowles is a past president and current member of the board of directors of The Counseling Connection, a regional non-profit organization providing mental health services throughout West Virginia regardless of the recipient's ability to pay. He is also the current treasurer on the board of directors of the Sisters of St. Joseph Health and Wellness Foundation, a group that is working to address the health and wellness needs of West Virginia's children through a variety of grants and projects.
Additional Recognitions and Achievements
The State Journal selected Mr. Bowles in 2017 for its "Generation Next, 40 Under 40." He was recognized by Best Lawyers® in the 2023 edition of The Best Lawyers in America® for Health Care Law. Mr. Bowles has been selected by his peers annually for this honor since 2019.
Mr. Bowles co-authored "Appealing Changes: A Case for Expanding Appellate Review in West Virginia's Judiciary" in The Rule of Law: Perspectives on Legal and Judicial Reform in West Virginia in 2009. He also contributed to the West Virginia Legislative Review Service, an overview of legislation signed into law in the state, in 2010, 2011, and 2012.
Mr. Bowles submitted briefs on behalf of the Diocese of Wheeling-Charleston as amicus curiae in the cases of State v. Beaver in 2022 and O.J. Mayo v. WVSSAC in 2008.
Contact Matthew R. Bowles
Matthew R. Bowles is a respected community member who provides legal counsel and services throughout the state. Contact him at Lewis Gianola PLLC by calling (304) 345-2000 or completing the law firm's online contact form to schedule a consultation to discuss how he can assist you.
Bar Admissions
Education
Professional Affiliations
Recognitions and Awards
Publications
State v. Beaver, 2022 W. Va. Lexis 700 (W. Va. 2022), Diocese of Wheeling-Charleston as amicus curiae
"Appealing Changes: A Case for Expanding Appellate Review in West Virginia's Judiciary," Bowles, Matthew R. & Mark A. Sadd; The Rule of Law: Perspectives on Legal and Judicial Reform in West Virginia, Ed. Russell S. Sobel & Assoc. Ed. Joshua C. Hall, The Public Policy Foundation of West Virginia (2009)
West Virginia Legislative Review Service, Matthew Bender Company Inc., a member of the Lexis Nexis Group, Bowles, Matthew R. & Lori D. Counts Smith, Sang Ah Koh, 2012; Bowles, Matthew R. & Zachary Stewart, 2011; Bowles, Matthew R. & Michael J. Folio, 2010
O.J. Mayo v. WVSSAC, 672 S.E.2d 224 (W. Va. 2008), Diocese of Wheeling-Charleston as amicus curiae
Community and Public Service