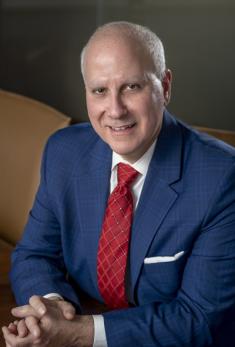 Practice Area:
Business Organization, Coal, Natural Gas/Shale, Real Estate
Practicing State:
West Virginia, Ohio, Pennsylvania
Attorney Phone Number
(304) 345-2000 ext. 1011
Assistant:
Katrina Nicholas
Assistant Email:
knicholas@lewisgianola.com
Assistant Phone:
(304) 345-2000 ext. 1069
Mark Sadd, managing member of Lewis Gianola PLLC, devotes his practice to commercial transactions and administrative and litigation cases with emphasis on real property, including commercial title, coal, oil and natural gas title, eminent domain and condemnation, common interest communities, servitudes, historic preservation, residential and commercial development and financing, leasing, planning, zoning and land use; state and local taxation; construction law; and municipal law. He has represented multi-family, commercial, mixed-use and mineral projects of all sizes.
Mr. Sadd's mineral practice includes complex commercial and mineral title, including oversight of title certifications for surface, leasehold, oil and natural gas, CBM and coal estates for individuals and large and small companies in Ohio, Pennsylvania and West Virginia. He also assists or leads in litigation affecting title, boundaries, rights of way and other real property interests in state and federal courts.
He has worked on multi-county mineral title projects in due diligence and pre-and post-closing phases of transactions, and is a member of the Energy & Mineral Law Foundation and the American Association of Professional Landmen.
Mr. Sadd has served as counsel to local governments, owners, developers and community groups in land use matters before local planning and zoning commissions, historic landmark commissions, boards of zoning appeals, circuit court and the Supreme Court of Appeals of West Virginia.
Mr. Sadd is a 1986 graduate of the University of Virginia, with a Bachelor of Arts in English and history. He graduated from the West Virginia University College of Law in 1992.
He is listed in Best Lawyers of America® in the practice areas of eminent domain and condemnation law and land use and zoning law. He also is listed in Super Lawyers® in the practice area of real property law.
Mr. Sadd has handled the following cases before the West Virginia Supreme Court:
Mills v Van Kirk, 453 S.E.2d 678 (W.Va. 1994)( enforcement of a statutory right of first refusal to acquire surplus state lands).
County Commission of Boone County v Hill, 460 S.E.2d 727 (W.Va. 1995)(amicus curiaeposition adopted for opinion and holding).
McCoy v Van Kirk, 500 S.E.2d 534 (W.Va. 1997)( fair market valuation).
Ransom v City of Charleston, 201 W.Va. 241, 496 S.E.2d 191 (1997)( statutory construction in a land use setting).
Lower Donnally Association v Charleston Municipal Planning Commission,575 S.E.2d 233 (W.Va. 2002)( landmark procedural right to review by writ of certiorari in certain land use cases).
United Bank Inc. v. Stone Gate Homeowners Association,Inc., 647 S.E.2d 811 (W. Va. 2007)(fee-shifting under the Uniform Common Interest Ownership Act).
Pope Properties/Charleston Limited Liability Company v. Kanawha County Assessor, 230 W. Va. 381, 738 W. Va. 546 (2013)(valuation of condominium parcels and apartments).
Mr. Sadd's admissions include Ohio, Pennsylvania and West Virginia state and commonwealth courts; the United States District Court for the Southern District of West Virginia, and the United States Court of Appeals for the Fourth Circuit.
Mr. Sadd is a former chairman of the Charleston Human Rights Commission and is a former at-large city councilman in the City of Charleston. In 2005, President Bush appointed Sadd to the Advisory Council on Historic Preservation, a federal agency that advises the Administration and the Congress on preservation policy and legislation. He served two four-year terms. Mr. Sadd also has been a drafter for Kanawha County and West Virginia zoning ordinances.
His memberships also include: Member, Real Estate, Zoning and Land Use and Corporations; Banking and Business Law Committees of the West Virginia State Bar; and the Urban Land Institute. In 2001 and 2002, he was a member of Owners Counsel of America.
Mr. Sadd is an agent and approved attorney, First American Title Insurance Company and Old Republic National Title Insurance Company. He is a licensed real estate broker in West Virginia.
Mr. Sadd is a fellow of the American College of Real Estate Lawyers.
Lecturer: "West Virginia Growth Management and Land Use Law", National Business Institute, April 2000; "Real Estate and Land Use: Emerging Trends", W. Va. University Continuing Legal Education, June 2000; "Land Use Law in West Virginia", Lorman, December 2002; "Legal Issues Involving West Virginia Local Governments", National Business Institute, December 2003; and "Understanding the 2004 West Virginia Land Use Act," Lorman, July and August 2004; Panelist and presenter on media law, West Virginia Press Association convention, 2003 and 2004; West Virginia Planning Association Annual Conference, 2004; West Virginia Auctioneers Association, continuing education, 2006; Real Estate Transactions," National Business Institute, June 2006; West Virginia Auctioneers Association, continuing education, 2007; "Marcellus Shale in West Virginia", W. Va. University College of Law Continuing Legal Education, June 2011; "Historic Preservation and Land Use Law in West Virginia', American Institute of Certified Planners, September 2012; "Redevelopment and Historic Preservation in West Virginia", West Virginia Brownfields Assistance Center, June 2013.
Co-Author: "Appealing Changes: A Case for Expanding Appellate Review in West Virginia's Judiciary" in The Rule of Law: Perspectives on Legal and Judicial Reform in West Virginia (The Public Policy Foundation of West Virginia, Russell D. Sobel, ed.) 2009.