Andrew W. Holbrook
Associate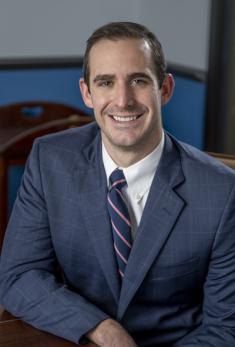 Practice Area:
Construction Law, Insurance, Litigation and Appeals, Real Estate and Property Law
Practicing State:
West Virginia
Attorney Phone Number
(304) 414-4376
Assistant:
Beth Hager
Assistant Email:
bhager@lewisgianola.com
Assistant Phone:
(304) 414-4372
About Charleston Construction Attorney Andrew Holbrook
Andrew "Drew" Holbrook is an associate at Lewis Gianola PLLC where his practice as a Charleston construction attorney focuses primarily on litigation. The construction industry plays a critical role in community growth and development. Mr. Holbrook appreciates the opportunity to contribute to that growth in Charleston and throughout West Virginia (WV) by protecting the interests of contractors, suppliers, and business owners and helping them resolve their legal issues.
Services of Charleston, WV Construction Attorney Drew Holbrook
Litigation and other legal issues related to construction law require the help of a skilled attorney who can understand and apply the facts of a case and adjust seamlessly to developing situations. Mr. Holbrook provides the knowledgeable counsel and representation business owners and others need for legal matters like these:
Construction accidents;
Construction defects;
Construction litigation;
Mechanics' liens;
Insurance defense;
Contract disputes;
Negligence;
Personal injury;
Premises liability;
Product liability;
Torts;
Landlord/tenant issues;
Property insurance; and
Estate litigation.
Whether you need a WV construction accident lawyer for a personal injury claim filed against your business, assistance enforcing a lien, an advocate to help obtain the insurance coverage to which you are entitled, or help to resolve another legal issue, attorney Drew Holbrook can guide you through the legal process confidently.
Attorney Drew Holbrook: Experience and Admissions
Before joining Lewis Gianola PLLC, Mr. Holbrook worked as an associate at Hendrickson & Long PLLC, in Charleston from 2014 to 2020 where he primarily practiced in the firm's insurance defense, product liability, and toxic tort areas. There he gained valuable experience and knowledge he uses to help meet the needs and goals of every client he represents. Drew has also represented clients in landlord-tenant, defective construction, trespass, and negligence cases.
Mr. Holbrook is admitted to practice before the Supreme Court of Appeals of West Virginia, the US District Court for the Northern District of West Virginia, and the US District Court for the Southern District of West Virginia.
A Charleston Construction Attorney with Local Roots
Born and raised in Charleston, WV, Mr. Holbrook graduated from George Washington High School in 2007. He went on to earn a Bachelor of Science in journalism from West Virginia University (WVU) in 2011. During his time at WVU, Drew's pride as a Mountaineer and skills as a writer afforded him the opportunity to serve as a reporter coving WVU athletics for Blue & Gold News for two years. Drew earned his Juris Doctor from the WVU College of Law in 2014.
Still a passionate WVU sports fan, Mr. Holbrook spends his time away from work cheering on the Mountaineers and enjoying the outdoors and other activities with his wife and two daughters.
Contact Charleston Construction Attorney Drew Holbrook
Whether he is protecting a client's interests as a WV premises liability attorney, helping a business owner navigate a contract dispute, or providing legal services in other areas, Mr. Holbrook gets great satisfaction from helping alleviate the burdens these cases place on his clients. Contact Charleston construction attorney Drew Holbrook at Lewis Gianola PLLC to discuss your legal needs by calling (304) 345-2000 or completing the law firm's online contact form.
Bar Admissions
Education
Professional Affiliations