Matthew P. Kingery
Member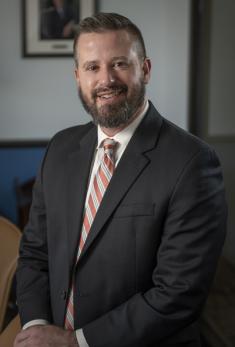 Practice Area:
Real Estate and Property Law, Banking and Finance Law, Business and Corporate Law
Practicing State:
West Virginia, Kentucky
Attorney Phone Number
(304) 414-9015
Assistant:
Katrina Nicholas
Assistant Email:
knicholas@lewisgianola.com
Assistant Phone:
(304) 345-2000 ext. 1069
About WV Business Services Attorney Matthew P. Kingery
WV business services attorney Matthew P. Kingery, a member at Lewis Gianola PLLC's Charleston office, focuses his practice on commercial transactions and development as well as real estate and property law with an emphasis on matters involving title, financing, acquisitions, and sales. Serving clients in various industries, including energy and construction, he prioritizes client services and responsive communication to better facilitate and meet the needs of his clients and protect their interests.
A Knowledgeable WV Commercial Transactions Attorney
Mr. Kingery's experience as a WV commercial transactions attorney includes representation of national, regional, and community lenders on commercial loans secured by both real property and other assets. He has handled a variety of commercial transactions involving complex estates and oil, gas, and mineral issues.  
Business clients depend on Mr. Kingery's knowledge and skills in drafting and negotiating contracts as well as his counsel for simple and complex commercial transactions.
An Experienced WV Business Services Attorney
Clients served by Mr. Kingery have included regional developers, property management groups, property owners, and business owners and operators. Representing commercial, mixed-use, multi-family, and mineral projects of various sizes, he serves clients in legal matters that include the following:
Landlord-tenant issues;
Eminent domain and condemnation;
Construction law;
Common interest communities;
Servitudes;
Leasing;
Planning;
Zoning and land use; and
State and local taxation.
Matthew P. Kingery: WV Real Estate Attorney
As a WV real estate attorney, Mr. Kingery assists clients with complex commercial title and mineral title issues. This work includes oversight of title certifications for oil and natural gas estates and coal estates as well as leasehold and surface titles for businesses and individuals in WV. He also represents clients in matters affecting boundaries, condemnation, easements, rights-of-way, eminent domain, and other real property interests in both state and federal courts.
A member of the Energy & Mineral Law Foundation, Mr. Kingery has provided legal counsel for multi-county mineral and surface projects in the pre- and post-closing stages of transactions as well as due diligence.
Mr. Kingery has served as counsel to owners, developers, and community groups in land use matters before local planning and zoning commissions, and boards of zoning appeals.
Education and Achievements
Matthew P. Kingery is a graduate of Marshall University with a Bachelor of Science in the psychology of business and industry. He graduated from the West Virginia University College of Law in 2000.
Mr. Kingery has been recognized for his work in the legal industry and community and has received numerous awards. He earned both an AV Preeminent® peer rating and Gold Client Champion client rating on Martindale-Hubbell® and has been selected multiple times to Super Lawyers® in the practice area of real property law. Mr. Kingery was named the 2010 West Virginia State Bar Young Lawyer of the Year, honored as a recipient of the 2009 Generation Next 40 under 40 award by The State Journal, and named a Young Gun by West Virginia Executive in 2017.
Mr. Kingery is admitted to practice law by the Supreme Court of Appeals of West Virginia, the United States District Court for the Northern District of West Virginia, and the United States District Court for the Southern District of West Virginia. He serves as an advisor to the University of Charleston School of Business and Leadership, and he serves on multiple committees of The Greater Kanawha Valley Foundation. His memberships also include the West Virginia State Bar, where he serves on the Real Estate, Zoning, and Land Use Committee, and the West Virginia Bankers Association. Mr. Kingery is an agent and/or approved attorney for First American Title Insurance Company, Lawyers Title, and Old Republic National Title Insurance Company.
Mr. Kingery co-authored numerous West Virginia Real Estate Law sections for Thomson Reuters® Practical Law in 2017 and 2018 on finance, ownership, leasing, foreign investment in real estate, brokerage laws, and managing commercial real estate. He has also been published by West Virginia Executive magazine and is a frequent contributor to the WV Banker magazine. In addition to his published articles, Mr. Kingery has been a speaker at multiple West Virginia State Bar Association meetings, the most recent of which was the 2021 West Virginia Bar Association Real Estate Conference at which he presented on special title considerations for common interest communities.
In his personal time, Mr. Kingery enjoys spending time with his family, hiking, going to the gym, and working on home projects.
Contact WV Business Services Attorney Matthew P. Kingery
WV businesses and organizations need a WV business services attorney who can and will advocate for their interests and help them achieve their goals. For assistance with commercial transactions, real estate matters, and more, contact Matthew P. Kingery at Lewis Gianola PLLC in Charleston. Call (304) 345-2000 or complete the law firm's online contact form to schedule a consultation.
Bar Admissions
Education
Professional Affiliations
Recognitions and Awards         

Specific Projects
Assisted a client with the acquisition of three renewable gas projects in Wisconsin
Assisted two banks in a loan participation for the financing of a large multi-family project acquisition
Regularly fields questions from the general counsel's office of a regional bank
Assisted the seller with the sale of a large mini-storage facility and its 1031 exchange into commercial office space.
Handle a variety of issues and transactions for a large powerline repair company
Assisted a developer client with non-recourse loan negotiations for loans totaling $75 million associated with a large multi-family project
Presentations and Lectures
Publications
Community and Public Service