Jason E. Wingfield
Associate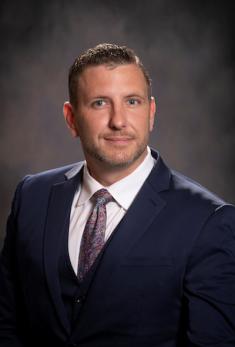 Practice Area:
Investigations and Criminal Defense, Litigation and Appeals, Construction Law
Practicing State:
West Virginia, Pennsylvania
Attorney Phone Number
(304) 291-6300
Assistant:
Linda R. Helmick
Assistant Email:
lhelmick@lewisgianola.com
Assistant Phone:
(304) 291-6300
Jason E. Wingfield is an associate attorney at Lewis Gianola PLLC. From the law firm's Morgantown, West Virginia (WV) office, he serves clients in WV and Pennsylvania (PA). Mr. Wingfield is passionate about his work as a WV criminal defense attorney and litigator. In addition to his criminal defense and litigation practices, he counsels and represents businesses and individuals in a variety of legal matters, including construction law, contracts, financing, transactions, permitting, and collections.
About WV Criminal Defense Attorney Jason E. Wingfield
Mr. Wingfield is passionate about fighting for his clients' interests. A former reconnaissance marine in the US Marine Corps, his tenacity and appetite for confrontation work to the advantage of the individuals and businesses he serves.
Whether he is working to defend against criminal charges, litigating, or providing transactional services and legal counsel, Mr. Wingfield's goal is to provide the most aggressive, yet ethical, representation possible. His knowledge of state and federal laws and procedures, paired with his fighting spirit, allows him to better serve his clients, often producing results that exceed their expectations.
PA and WV Criminal Defense Services
Assisting clients with criminal investigations and providing a strong defense is one of the most rewarding aspects of Mr. Wingfield's work at Lewis Gianola. In his practice as a WV criminal defense attorney, he counsels and represents clients in matters that include the following:
DUI defense;
Expungements;
Federal criminal defense;
Police misconduct;
Qui tam and whistleblower litigation;
RICO defense; and
White collar criminal defense.
Dedicated to growing his skills and network as a Morgantown criminal defense lawyer, Mr. Wingfield is a member of the National Association of Criminal Defense Lawyers (NACDL), the Pennsylvania Association of Criminal Defense Lawyers (PACDL), the DUI Defense Lawyers Association, and the American Association of Premier DUI Attorneys.
A WV Litigation Attorney to Fight for Your Interests
Mr. Wingfield enjoys fighting for his clients both in and out of the courtroom. As a WV litigation attorney, he serves clients in the construction, energy, health care, and real estate industries, as well as employers in various industries. He also represents clients in cases related to car accidents, personal injury, medical malpractice and professional liability, premises liability, tax law, torts, and estate contests and litigation.
Additional Practice Areas
In addition to his litigation practice, Mr. Wingfield also provides business counsel and legal services to WV and PA companies and individuals. Representative clients include construction companies, employers, oil and gas companies, government entities, health care facilities, hospitality, and other businesses. Mr. Wingfield's legal services include counsel and representation for the following:
Adversarial proceedings in bankruptcy and restructuring;
Cannabis law;
Civil rights and housing discrimination cases;
Collections and asset recovery;
Condemnation proceedings;
Construction, employment, and other contracts;
Corporate taxation;
Financial and secured transactions;
FLSA and wage and hour matters;
Human resources law;
Local or specialized counsel;
Mediation and arbitration;
Permitting and government relations;
Real estate and property law; and
Wills and estate counsel.
Jason E. Wingfield: Education and Admissions
Mr. Wingfield received his undergraduate degrees from The Pennsylvania State University (Penn State) and his JD from the West Virginia University College of Law, where he was a Blaney Scholar. He is admitted to practice law in the Supreme Court of Appeals of West Virginia, the US District Court for the Northern District of West Virginia, the US District Court for the Southern District of West Virginia, the Supreme Court of Pennsylvania, and the US District Court for the Western District of Pennsylvania.
Accolades and Involvement
Mr. Wingfield has been elected to Super Lawyers® West Virginia Rising Stars in Criminal Defense from 2021 to 2023. His military experience was recognized with the Navy & Marine Corps Achievement Medal and he was celebrated as a Hometown Hero at the City of Virginia Beach Neptune Festival.
In addition to his involvement in the criminal defense law organization noted previously, Mr. Wingfield is also a member of the West Virginia State Bar, the Pennsylvania Bar Association, the Monongalia County Bar Association, and the Fayette County Bar Association (PA).
Contact Morgantown Attorney Jason Wingfield
For assistance with criminal defense, litigation, and other legal matters in WV and PA, contact WV criminal defense attorney, litigator, and counselor Jason Wingfield at Lewis Gianola PLLC in Morgantown by calling (304) 291-6300 or completing the law firm's online contact form.
Bar Admissions
 Education
 Professional Affiliations
 Recognitions and Awards
Selected to Super Lawyers® West Virginia Rising Stars in Criminal Defense, 2021 to 2023
 Community and Public Service